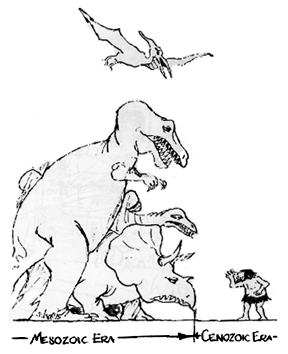 A travelling exhibit of 65-70 S. Harris cartoons on science has been touring museums in the U.S. and Canada since 1984, and has also appeared in several corporate headquarters.
From San Francisco's Exploratorium on the West Coast to the MIT Museum on the East Coast -- and with numerous stops in between, including the Chicago Academy of Science, Pittsburgh's Carnegie Museum of Natural History, and The Maryland Science Center -- museum goers have been enjoying this entertaining exhibit.
All the cartoons on view are original drawings which have appeared in such leading periodicals as Discover, American Scientist, The New Yorker, Natural History Magazine, and Playboy. All are offered for sale, with a commission of 20% going to the museum.
For information on booking this crowd-pleasing show, complete the contact page form.